What is PUSH?
Here's a bit of info about PUSH and how we can help you.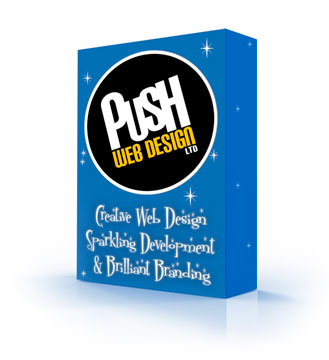 PUSH are a digital interactive web design agency with the creative ability to take your ideas and business processes and transform these ideas into a website that will deliver real business benefits (and a website that you'll be keen to show off!).

Unlike some website companies PUSH Web Design do not use templates and our designs are guaranteed to be unique and original to you.

We pride ourselves on understanding your ideas and bringing these ideas to life in the form of a website. Whether you would like a brand new website or you want to give your existing website a fresh new look, our goal is the same - to design a great website for you that will achieve real business objectives.

We provide a customised web design service which begins with a free consultation and quote. We quickly move onto a design concept stage followed by the website build stage.

This personal service results in the creation of a Professional, Unique, Stylish and High-quality website (a PUSH website).
---
What can PUSH do for me and my business?
Here are just a few reasons...
We work closely with you from a branding perspective in order to understand the image that you would like your website to portray.
We study your competitors' websites so that we can deliver a better website for your business.
We listen to your requirements and provide regular updates during the design and website build phases.
We can host your website for you.
We can provide statistics so that you can identify information about customers visiting your website.
We can set up many email accounts for you e.g. info@yourbusniness.com, sales@yourbusiness.com, MrTickle@yourbusiness.com.
We offer various website solutions to fit in with your website budget.
We can design a new company logo for you if need be
We can design business cards and leaflets to support your website and complete your brand
We can bring your website to life with animated website elements such as banners, logos, navigation items
---
Does my business really need a website?
If you're serious about your business then the answer is yes of course. Check out the benefits below
---
What are the benefits of having a website?
There are many but exactly what are these benefits? Well, here are just a few...
A good looking website will enhance the identity of your business and re-enforce your brand.
A professional website (rather than one done by a friend or a family member) often results in referalls and repeat business.
Your website is a 24 x 7 virtual shop. Customers can find & research your business, contact you and then book your services/ buy your products.
Your website allows customers to find you rather than you finding them so you can save some money on other advertising methods.
Your website gives you the potential to increase your sales and customer base.
All your products & services can be advertised in one place.
You can use your website as a channel to communicate with your customers e.g. by email newsletters featuring special offers
Your website is FREE for people to access at a time convenient to them and wherever they are.